The challenge
SparkFun & Blynk have partnered to bring IoT for everyone!
Blynk is a hugely popular toolset for all makers, inventors, designers, hackers, nerds and geeks who build connected projects. Blynk will get you online and ready for the Internet Of Your Things. It's an IoT platform to connect your hardware to your smartphone. You'll be up and running and tinkering in less than 5 minutes!
The SparkFun IoT Starter Kit provides a diverse set of components for the Blynk Board — including a magnetic door switch, soil sensor, miniature photocell, servo, and linear slider. With this kit you will be able to get your Blynk Board connected and, by utilizing the pre-loaded projects, use diverse set of components to build an array of web- and phone-connected projects.
Our friends at SparkFun are giving away 50 Blynk boards — pre-flashed with Blynk!— to the best ideas submitted to this contest! Tell us what you want to create using the free Blynk app and any compatible board. 50 lucky winners will receive the SparkFun Blynk board.
So show us what you've got. Discover your inner inventor and get started with IoT! We have some amazing prizes for you, including an all-expenses trip to AVC in September 2016!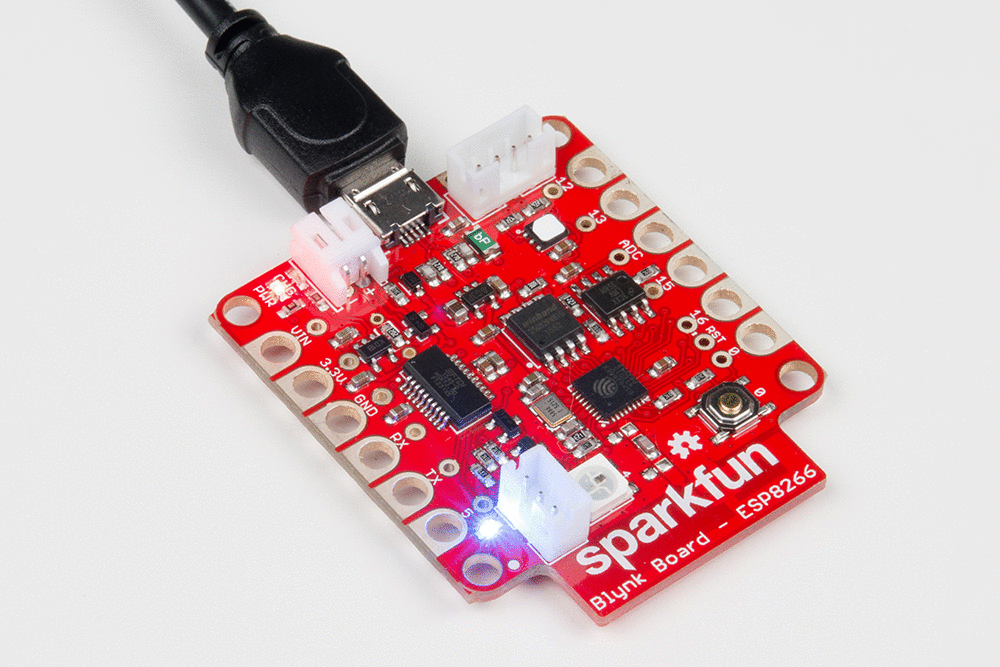 Blynk has done all the hard work of establishing internet connection, building an app and writing hardware code. With Blynk, you simply snap together an amazing app interface from various widgets and upload the example code to your hardware! It works perfectly for newbie makers and saves tons of time for evil geniuses.
The all-new SparkFun Blynk Board is your hardware gateway to this app-controlled wonderland that is Blynk. The SparkFun Blynk Board – ESP8266 is specially designed to work with the Blynk mobile app to create your next IoT project.
Built to seamlessly bridge software and hardware, the Blynk Board and App offer the most efficient way to link a smartphone to a microcontroller—simply turn it on, connect, and build a project. This groundbreaking combination enables users to:
Control and monitor projects from anywhere in the world
Build intuitive graphic interfaces and mobile apps for projects by simply dragging and dropping widgets (including buttons, knobs, graphs, and displays)
Leverage enhanced, built-in board functionality, including humidity and temperature sensing, multicolor LED, and plenty of memory for complex projects
Build beginner or advanced projects with little additional hardware, without soldering, and without a background in programming
Access Blynk content and widgets, plus a library of tutorials to get started and view sample projects
Easily connect Blynk to multiple boards and even have boards communicate with each other
Here's how to get started:
Step 1: Register for the contest
Start by creating a free account on

Hackster.io

(or sign-in if already a member)

Register for the contest by clicking "Register as a participant"
Step 2: Apply to win one of 50 SparkFun Blynk Boards by pitching an idea
Submit your project idea by

May 8, 2016

Click "Apply to receive a SparkFun Blynk Board" and fill in the template. Tell us what you want to create using the SparkFun Blynk Board and the Blynk Platform

Idea submissions close on

May 8, 2016

We will select the top 50 winners based the originality, quality, and creativity of your idea
Step 3: Enter to win the grand prizes by building and submitting your project
Build your project using the

SparkFun Blynk Board with the Blynk app

Submit your project by clicking on "Add my project"

Describe your project. Include plenty of details: what are you creating? What does it do? Why does it matter?

Submit your project by July 15, 2016

Check out

this project

on Hackster to get inspired.
Your posted project should include:
Story and quality images;

Clear instructions;

BOM and schematics;

Source code;

CAD files if relevant

All project submissions must use the SparkFun Blynk Board with the Blynk app
Winners will be announced on this page at the end of July 2016. Good luck!
Useful links:
SparkFun Blynk Board on hackster
Buy the SparkFun Blynk Board - ESP8266
Blynk resources and documentation on hackster
Getting started with your Blynk Board
View section
Prizes
We are giving away thousands of dollars in prizes to the top 3 projects! Our judges will pick the best qualifying 3 projects based on the
judging criteria
outlined in the
rules
section.
2nd Place
1 winner
$500 SparkFun Gift Certificate + 10,000 blynk points
3rd Place
1 winner
$300 SparkFun Gift Certificate + 10,000 blynk points
View section
Contest Status
Timeline
Contest begins
April 15, 2016 at 3:00AM PT
Applications for hardware close
May 13, 2016 at 3:18PM PT
Submissions close
July 15, 2016 at 11:59PM PT
Winners announced by
Jul 29, 2016